Keyboard, Mouse, & Monitor (KMM) Consoles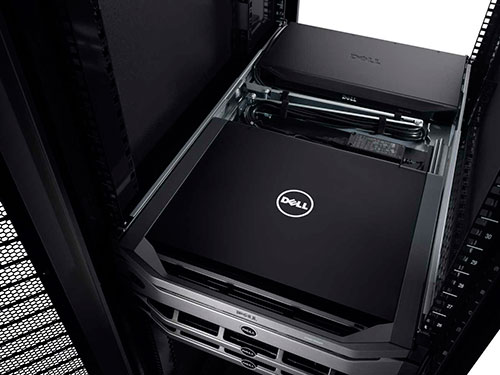 KMMLED185 Datasheet KMMLED156 Datasheet Warranty Datasheet
Americas
18.5″ KMM Console SKUs
| Dell SKU | MFG PN | Description |
| --- | --- | --- |
| A7546778 | DKMMLED185-G01 | English Language Keyboard- TAA Compliant – Dell 18.5" DKMMLED185-G01 |
| A7485910 | DKMMLED185-207 | Spanish Language Keyboard – Dell 18.5" DKMMLED185-207 |
| A7485911 | DRMK-77 | Bracket kit to mount the currently shipping KVMs behind the 18.5" KMM in 1U |
Extended Warranties
| Dell SKU | MFG PN | Description |
| --- | --- | --- |
| A7547309 | 4YSLV-DKMMLED185 | 4 Year Silver Hardware Maintenance by Vertiv for the Dell DKMMLED185 |
| A7547310 | 5YSLV-DKMMLED185 | 5 Year Silver Hardware Maintenance by Vertiv for the Dell DKMMLED185 |
| A7547311 | 3YGLD-DKMMLED185 | 3 Year Gold Hardware Maintenance by Vertiv for the Dell DKMMLED185 |
| A7547312 | 4YGLD-DKMMLED185 | 4 Year Gold Hardware Maintenance by Vertiv for the Dell DKMMLED185 |
| A7547313 | 5YGLD-DKMMLED185 | 5 Year Gold Hardware Maintenance by Vertiv for the Dell DKMMLED185 |
15.6″ KMM Console SKUs – EOL Aug 2022
| Dell SKU | MFG PN | Description |
| --- | --- | --- |
| EOL Aug 2022 | DKMMLED156-001 | English Language Keyboard- TAA Compliant – Dell 15.6" DKMMLED156-001 |
| EOL Aug 2022 | DKMMLED156-207 | Spanish Language Keyboard – Dell 18.5" DKMMLED156-207 |
| EOL Aug 2022 | DRMK-81 | Bracket kit to mount the currently shipping KVMs behind the 15.6" KMM in 1U |
Extended Warranties
| Dell SKU | MFG PN | Description |
| --- | --- | --- |
| AA595877 | 4YSLV-DKMMLED156 | 4 Year Silver Hardware Maintenance by Vertiv for the Dell DKMMLED156 |
| AA595888 | 5YSLV-DKMMLED156 | 5 Year Silver Hardware Maintenance by Vertiv for the Dell DKMMLED156 |
| AA595887 | 3YGLD-DKMMLED156 | 3 Year Gold Hardware Maintenance by Vertiv for the Dell DKMMLED156 |
| AA595890 | 4YGLD-DKMMLED156 | 4 Year Gold Hardware Maintenance by Vertiv for the Dell DKMMLED156 |
| AA595889 | 5YGLD-DKMMLED156 | 5 Year Gold Hardware Maintenance by Vertiv for the Dell DKMMLED156 |
EMEA
18.5″ KMM Console SKUs
| Dell SKU | MFG PN | Description |
| --- | --- | --- |
| A7485911 | DRMK-77 | Bracket kit to mount the currently shipping KVMs behind the 18.5″ LCD in 1U |
| A7485910 | DKMMLED185-207 | Spanish Language Keyboard – Dell 18.5″ DKMMLED185-207, 1U |
| A7485906 | DKMMLED185-001 | International English Language Keyboard – Dell 18.5″ DKMMLED185-001, 1U |
| A7485907 | DKMMLED185-201 | UK English Language Keyboard – Dell 18.5″ DKMMLED185-201 1U |
| A7485908 | DKMMLED185-204 | French Language Keyboard – Dell 18.5″ DKMMLED185-204 1U |
| A7485909 | DKMMLED185-205 | German Language Keyboard – Dell 18.5″DKMMLED185-205 1U |
Extended Warranties
| Dell SKU | MFG PN | Description |
| --- | --- | --- |
| A7547309 | 4YSLV-DKMMLED185 | 4 Year Silver Hardware Maintenance by Vertiv for the Dell DKMMLED185 |
| A7547310 | 5YSLV-DKMMLED185 | 5 Year Silver Hardware Maintenance by Vertiv for the Dell DKMMLED185 |
| A7547312 | 4YGLD-DKMMLED185 | 4 Year Gold Hardware Maintenance by Vertiv for the Dell DKMMLED185 |
| A7547313 | 5YGLD-DKMMLED185 | 5 Year Gold Hardware Maintenance by Vertiv for the Dell DKMMLED185 |
15.6″ KMM Console SKUs – EOL Aug 2022
| Dell SKU | MFG PN | Description |
| --- | --- | --- |
| EOL Aug 2022 | DRMK-81 | Bracket kit to mount the currently shipping KVMs behind the 15.6″ LCD in 1U |
| EOL Aug 2022 | DKMMLED156-207 | Spanish Language Keyboard – Dell 15.6″ DKMMLED156-207, 1U |
| EOL Aug 2022 | DKMMLED156-001 | International English Language Keyboard – Dell 15.6″ DKMMLED156-001, 1U |
| EOL Aug 2022 | DKMMLED156-201 | UK English Language Keyboard – Dell 15.6″ DKMMLED156-201 1U |
| EOL Aug 2022 | DKMMLED156-204 | French Language Keyboard – Dell 15.6″ DKMMLED156-204 1U |
| EOL Aug 2022 | DKMMLED156-205 | German Language Keyboard – Dell 15.6″ DKMMLED156-205 1U |
Extended Warranties
| Dell SKU | MFG PN | Description |
| --- | --- | --- |
| AA632329 | 4YSLV-DKMMLED156 | 4 Year Silver Hardware Maintenance by Vertiv for the Dell DKMMLED156 |
| AA632347 | 5YSLV-DKMMLED156 | 5 Year Silver Hardware Maintenance by Vertiv for the Dell DKMMLED156 |
| AA632365 | 3YGLD-DKMMLED156 | 3 Year Gold Hardware Maintenance by Vertiv for the Dell DKMMLED156 |
| AA632383 | 4YGLD-DKMMLED156 | 4 Year Gold Hardware Maintenance by Vertiv for the Dell DKMMLED156 |
| AA632401 | 5YGLD-DKMMLED156 | 5 Year Gold Hardware Maintenance by Vertiv for the Dell DKMMLED156 |
EMEA Emerging Countries
18.5″ KMM Console SKUs
| Dell SKU | MFG PN | Description |
| --- | --- | --- |
| 481-BBBD | DRMK-77 | Bracket kit to mount the currently shipping KVMs behind the 18.5" KMM in 1U |
| 481-BBBC | DKMMLED185-001 | International English Language Keyboard- KMM for Dell, 18.5", 1U |
| 481-BBBI | DKMMLED185-204 | French Language Keyboard- KMM for Dell, 18.5", 1U |
Extended Warranties
| Dell SKU | MFG PN | Description |
| --- | --- | --- |
| 340-ALDN | 5YSLV-DKMMLED185 | 5 Year Silver Hardware Maintenance by Vertiv for the Dell DKMMLED185 |
15.6″ KMM Console SKUs – EOL Aug 2022
| Dell SKU | MFG PN | Description |
| --- | --- | --- |
| EOL Aug 2022 | DRMK-81 | Bracket kit to mount the currently shipping KVMs behind the 15.6" KMM in 1U |
| EOL Aug 2022 | DKMMLED156-001 | International English Language Keyboard- KMM for Dell, 15.6", 1U |
| EOL Aug 2022 | DKMMLED156-204 | French Language Keyboard- KMM for Dell, 15.6", 1U |
Extended Warranties
| Dell SKU | MFG PN | Description |
| --- | --- | --- |
| 481-BBES | 5YSLV-DKMMLED156 | 5 Year Silver Hardware Maintenance by Vertiv for the Dell DKMMLED156 |
APJ
18.5″ KMM Console SKUs
| Dell SKU | MFG PN | Description |
| --- | --- | --- |
| 481-BBBD | DRMK-77 | Bracket kit to mount the currently shipping KVMs behind the 18.5" KMM in 1U |
| 481-BBBC | DKMMLED185-001 | International English Language Keyboard- KMM for Dell, 18.5", 1U |
| 481-BBBF | DKMMLED185-103 | Simplified Chinese Language Keyboard- KMM for Dell, 18.5", 1U |
| 481-BBBH | DKMMLED185-104 | Korean Language Keyboard- KMM for Dell, 18.5", 1U |
| 481-BBBE | DKMMLED185-109 | Traditional Chinese Language Keyboard- KMM for Dell, 18.5", 1U |
| 481-BBBG | DKMMLED185-110 | Japanese Language Keyboard- KMM for Dell, 18.5", 1U |
Extended Warranties
| Dell SKU | MFG PN | Description |
| --- | --- | --- |
| 340-ALDN | 5YSLV-DKMMLED185 | 5 Year Silver Hardware Maintenance by Vertiv for the Dell DKMMLED185 |
| 340-ALDQ | 5YGLD-DKMMLED185 | 5 Year Gold Hardware Maintenance by Vertiv for the Dell DKMMLED185 |
15.6″ KMM Console SKUs – EOL Aug 2022
| Dell SKU | MFG PN | Description |
| --- | --- | --- |
| EOL Aug 2022 | DRMK-81 | Bracket kit to mount the currently shipping KVMs behind the 15.6" KMM in 1U |
| EOL Aug 2022 | DKMMLED156-001 | International English Language Keyboard- KMM for Dell, 15.6", 1U |
| EOL Aug 2022 | DKMMLED156-101 | Traditional Chinese Language Keyboard- KMM for Dell, 15.6", 1U |
| EOL Aug 2022 | DKMMLED156-103 | Simplified Chinese Language Keyboard- KMM for Dell, 15.6", 1U |
| EOL Aug 2022 | DKMMLED156-104 | Korean Language Keyboard- KMM for Dell, 15.6", 1U |
| EOL Aug 2022 | DKMMLED156-110 | Japanese Language Keyboard- KMM for Dell, 15.6", 1U |
Extended Warranties
| Dell SKU | MFG PN | Description |
| --- | --- | --- |
| 340-CMWI | 5YSLV-DKMMLED156 | 5 Year Silver Hardware Maintenance by Vertiv for the Dell DKMMLED156 |
| 340-CMWJ | 5YGLD-DKMMLED156 | 5 Year Gold Hardware Maintenance by Vertiv for the Dell DKMMLED156 |
About KMM Consoles
In order to mount your Dell KVM by Vertiv in the same 1U, you must order the 1U KVM Mounting Kit (DRMK-77 or DRMK-81) with your Dell 1U Rackmount KMM (1U KMM).
More Information / Ready to Buy
The DKMMLED 1U Rackmount LED Console offer IT managers the ability to install a single, integrated user KMM console (keyboard, monitor, and mouse) in a 1U (1.75″) form factor. Combining a thin 18.5-inch or 15.6-inch LED-backlit widescreen with an integrated touchpad mouse & keyboard, the 1U Rackmount LED console can be attached to any Dell KVM console switch to manage the setup, administration, and maintenance of multiple rack-mount servers. The 1U Rackmount LED console provides a system administrator's control station mounted directly into a rack without sacrificing the rack space needed for servers and other peripherals. The KMM's space-saving design enables the KMM to be mounted in the same rack U-space with any currently shipping Dell KVM console switch, making the 1U Rackmount LED Console ideal for deployment in high density racks. The KMM console's mounting system enables tool-less installation in most racks.
The ultra-slim KMM LED console is designed with the latest flat-panel display technology. Its eco-friendly display utilizes LED backlighting and has none of the mercury vapor found in traditional LCD consoles that use CCFL (Common Cathode Florescent Lamps) backlighting. The widescreen display supports both legacy server video modes and widescreen video modes, making it easier to work with multiple windows open at one time. The KMM console supports multiple enterprise configurations. It can be connected directly to the keyboard, video, and mouse ports of a single rack-mounted server for a simple one-to-one interface, or it can be attached to a rack-mounted Dell EMC DAV or DMPU KVM. A KVM console switch maintains the electrical connection to each server as the KMM console is switched by the KVM among the connected systems.
Support for currently shipping Dell KVM and KMM products is provided by Vertiv. Three years of Vertiv Basic Service, including Advanced Replacement is included with your purchase. Enhanced warranty options are also available. More information on support and service options.
This KMM console can be purchased as an accessory to a Dell rack, a Dell KVM, or as a customer kit.
Features and Benefits:
TAA Compliant
Easily Deployed: tool-less installation
Saves Valuable Rack Space: can share its 1U space with any Dell KVM
Eco-Friendly: LED-backlit console, free of mercury vapor found in typical LCD consoles
Multiple video modes: supports both legacy server video modes and widescreen video modes
SuperSpeed USB: dual USB pass-thru ports for faster media access to servers, USB 3.0 on the 18.5" and 2.0 on the 15.6".
Touchpad with palm rejection technology on the 18.5": allows user to rest palm on touchpad w/o inadvertently activating it
Full HD Resolution on the 15.6"
VGA, DVI, and DisplayPort video input options on the 15.6": provides more flexibility for video options
Modular design with a removable USB keyboard for the 15.6": simplifies installation and serviceability